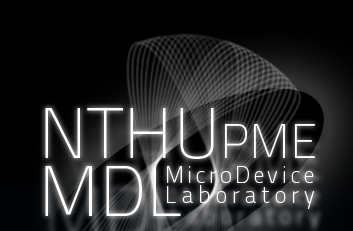 Teacher
Graduated
Post-Doctor
Doctor
Master
李俊宏

現職:副研究員, 國家高速網路與計算中心 Associate Reseacher, National Center for High-performance Computing
博士畢業論文:微結構液動耦合效應之研究
Journal&Conference

Jiunn-Horng Lee, Sheng-Ta Lee, Chih-Min Yao and Weileun Fang, "Comments on the Size Effect on the Microcantilever Quality Factor in Free Air Space," Journal of Micromechanics and Microengineering, Vol. 17, No. 1, pp. 139-146, 2007.
李俊宏、方維倫、鄭志偉、姚志民、石玉清,"微懸臂樑空氣阻尼之模擬分析", 第二十九屆全國力學會議,新竹、清華大學,2005。
李俊宏、李昇達、姚志民、方維倫,"微懸臂樑尺寸與品質因子關係之探討", 第三十屆全國力學會議,彰化、大葉大學,2006。
李俊宏、姚志民、方維倫,"微懸臂樑陣列液動耦合之模擬分析", 第三十二屆全國力學會議,嘉義、中正大學,2008。
Jiunn-Horng Lee, Yung-Dong Lau, Chih-Min Yao, and Weileun Fang, "Tuning the Quality Factor of Microcantilever Using Hydrodynamic Coupling of Micro Structures," Transducers 2009, Denver, USA.
李俊宏、劉源棟、姚志民、方維倫, 主動式微懸臂樑陣列液動耦合之研究與應用, 第13屆奈米工程暨微系統技術研討會, 交通大學, 新竹市, 7/9~7/10, 2009.
學歷:
清華大學奈米工程與微機電研究所
興趣:
閱讀 Reading
研究方向:
微結構動態能量損耗分析 Dynamic energy dissipation of Microstructure
連絡地址與電話
國家高速網路與計算中心 新竹市科學園區研發六路7號 National Center for High-performance Computing No. 7, R&D Rd. VI Hsinchu Science Park Hsinchu, Taiwan, R.O.C. 30076
TEL:886-3-5776085
E-Mail:
jhlee@nchc.org.tw